"
Extant
," starring Halle Berry airs Wednesdays on CBS. It's quickly become one of my favorite shows and I'm really hoping there will be a season two.
The ratings should ensure a second season, I'm just not sure if Halle signed on for a one time event or for a series.
I love all the characters and the twists and turns are thrilling.
At the start of each episode, Halle's character (Molly) explains the basics:
I went to space on a 13-month solo mission. I didn't come home alone. My husband created a life-like android called Humanich. His name is Ethan: he's the prototype. This is a story about Earth. A story about family. A story about survival.
It's also a story about friendship and that's as interesting to me as the surrounding elements.
Astronaut Molly's best friend is her doctor Sam Barton played by Camryn Manheim.
I think they were so smart to have cast her.
Not only was she great on "The Ghost Whisperer" and "The Practice" but even in a guest shot, like playing the psychic Darlene on one episode of "Will & Grace," she leaves a strong impression.
And with Halle and Camryn playing best friends, they make you believe they are.
There's this conspiracy against Molly. It's how she ended up pregnant on a solo space mission -- I think it's aliens but that may be wrong.
Sam was helping her but then the group found out and threatened Sam's brother if Sam didn't go along.
Now she's had to turn her back on Molly and this has created new dynamics that are as interesting and heart tugging to me as the whole alien life form.
I would give Halle and Camryn Emmys next year (they don't qualify for this fall's Emmys, the show wasn't airing in time). They are doing such a great job.
And I'm always a sucker for a story about friends in danger and struggling to help one another.
I was really glad that Molly made clear to Sam this week that she knew some of what was going on.
"
Iraq snapshot" (The Common Ills):
Friday, August 15, 2014. Chaos and violence continue, possibilities as to why Nouri is steeping down, some look to the prime minister-designate for hope, and much more.
Yesterday's big news that Iraq's two-term prime minister and forever thug Nouri al-Maliki had agreed to step down continues to be news.
Al Mada notes
statements of relief made by US Secretary of State John Kerry, National Security Advisor Susan Rice and the UN Secretary-General's Special Envoy to Iraq Nickolay Mladenov.
Andrew Reiter (US News and World Reports) offers
:
This is an unquestionably positive development for Iraq. First, the peaceful transfer of power represents a key step in Iraq's young democracy. Second, the new government should be better equipped to deal with the worsening security threat posed by Islamic State militants. And third, it could usher in a period of improved relations with the U.S.
A peaceful transfer of power is a welcome development for Iraq's nascent democracy that has seen al-Malaki consolidate his rule over his eight years in office. Following the controversial 2010 parliamentary elections, al-Malaki created the Office of the Commander-in-Chief, giving himself direct control over the Iraqi army and police. In response to recent events, he deployed a number of elite security forces throughout Baghdad's Green Zone in an overt threat to his opponents. Fears of a military coup were rampant.
Loveday Morris and Karen DeYoung (Washington Post) point out
, "Maliki has become a deeply divisive figure but had clung to his position in the face of a growing consensus among Iraq's politicians and the international community that only a new leader would have a chance of unifying a country experiencing growing sectarian divisions." How bad did it get for Nouri?
Martin Chulov, Julian Borger and Spencer Ackerman (Guardian) explain
, "He had lost the support of his party, of the president, the parliament, the Americans, Saudis and finally the Iranian government, his biggest foreign ally and sponsor. Even the Iranian Supreme Leader, Ali Khamenei, issued a statement pointedly welcoming the appointment of Abadi."
How did he lose the support of Ali Khamenei?
Ali Hashem (Al-Monitor) reports
:
An Iraqi source close to Ayatollah Ali Sistani told Al-Monitor: "Around 10 days before the designation, an envoy representing the Iranian leadership visited Ayatollah Ali Sistani in Najaf. The envoy heard a clear stance from Sistani: Nouri al-Maliki shouldn't continue as a prime minister. …​ Sistani won't say this in public, but he had to tell it to the Iranians, because he thought the crisis in the country needed a solution and that the deadlock would complicate efforts to reach an agreement."
According to Al-Monitor's sources in Tehran and Baghdad, Iranian Supreme Leader Ayatollah Ali Khamenei, after learning of Sistani's position, asked his aides to facilitate the change, calling on them to play a role in convincing Maliki to withdraw. "There were several alternatives for Maliki, one was him being appointed vice president. He refused. He was obstinate on the prime minister position and gave all those who tried [to talk] with him reasons for him not to accept. His main challenge was that he's the leader of the bloc that won the election, and the constitution gives him the right to form the new government."
Also weighing in was
The Diane Rehm Show
. I
n the second hour of Friday morning's broadcast, Diane addressed Iraq with her guests Nancy A. Youssef (McClatchy Newspapers), Greg Myre (NPR) and Jim Sciutto (CNN)
. Excerpt:
REHM: Good to see you all. Jim Sciutto, what finally made Iraqi Prime Minister al-Maliki agree to step aside?
SCIUTTO: I think the loss of the support of the support of both the U.S. and Iran. And once you had public statements. For the U.S. statement, somewhat more predictable, but once the Iranians said they wanted a transition, they wanted a more inclusive government, he saw the writing on the wall. But it was touch and go, because on Sunday night, and we were on the air Sunday night, as you had tanks in the streets, bridges closed in Baghdad. Forces loyal to Maliki being ordered -- you know, accounts from Baghdad police telling us ordered around key buildings. It looked like, for a moment, he was gonna make a power grab. So, you know, it appeared he had some second thoughts towards the end, but once that support disappeared, even he could see the writing on the wall.
REHM: Nancy.
YOUSSEF: So, the reason he gave, in his speech, in which he was surrounded by members of his party and his successor, was, in part, that he didn't want to see Iraq return to dictatorship, which arguably was code for that he didn't think that the militias and the armed forces he put on the street could actually keep him in power. The only other list -- person I would add to that list is Sistani, Ayatollah Sistani, who's the leader of the Shias in Iraq had called and supported his transition. And so, internally, that was perhaps the most important loss for his support. And so, once all those factors came in to play, it was impossible to see who would support him. In addition, I would add also are the court systems, because the last time he had sort of been challenged, the courts had supported him, and constitutionally, he didn't have the ground to stand on to continue his fight.
REHM: Greg.
MYRE: Just looking back, Maliki came to power in 2006. At that moment, Iran was facing this Sunni insurgency that was tearing the country apart. The U.S. felt a real sense of urgency to intervene. Here we are eight years later going through the same thing. And you can go back, and the U.S. military involvement has now been over 20 years in Iraq. And are we moving forward anywhere, or are we just going in circles?
While various possibilities were tossed around at various outlets, few bothered to examine Iraqi sentiment.
Kholoud Ramzi (Niqash) covers
Iraqi reaction:
The desperate attempts of Iraqi Prime Minister Nouri al-Maliki to stay in power may have been taken seriously by many and led to questions about attempted coups and concern as to which sectors of the military supported him - but there are many Iraqis who are not taking al-Maliki seriously at all. Sarcastic pictures, jokes and comments have been circulating on Iraqi social media for the past few days, with those photo shopping pictures and posting jokes appearing to compete amongst themselves to make a mockery of their soon-to-be-former Prime Minister.
One of the most popular pictures shows al-Maliki wearing a Hitler-style moustache. Another shows US President Barack Obama patting al-Maliki on the back, as if to bid him farewell. This has garnered a number of humorous comments.
One Iraqi Kurdish journalist shared a picture that shows young men trampling on a picture of al-Maliki that is lying on the floor. "They started to throw your pictures on the ground as soon as they heard about al-Abadi," the journalist wrote in the caption. "They started to throw shoes at the picture as soon as they knew you were out. I fear that soon they will beat you with their shoes. We Iraqis are the kind of people who receive our leaders with cheering and applause and then farewell them with shoes."
Another picture showed two tribal leaders, or sheikhs, sitting behind al-Maliki at a funeral. "Let us grieve for the soul of [al-Maliki's] third term," those who shared the picture wrote. "The funeral of the State of Law bloc."
Another Iraqi prankster posted a picture of al-Maliki's wife. "Breaking news," they wrote. "Al-Abadi's wife has called al-Maliki's wife to ask her where she put the presidential mugs."
Those who supported al-Maliki also came in for ribbing, with politicians who protested al-Abadi's nomination or al-Maliki's ouster also targeted by jokers.
Another commenter wrote this: "Al-Maliki ruled us for eight years and he brought us right back to the era of the Caliphate. If he had had another four years, we might have seen dinosaurs roaming the streets of Baghdad".
Some other activists wrote on one of al-Maliki's Facebook pictures that Iraqis need to thank the Prime Minister for his achievements before he leaves. They listed 14 of the most important ones. This included sectarianism, displacement, insecurity, corruption and lack of government services. "Last but not least we should congratulate him on the birth of Daash, which came from all of these achievements," they wrote, using the Arabic acronym for the Sunni Muslim extremist group known as the Islamic State, that now controls parts of the country.
Deeply unpopular Nouri. So many have wanted him gone for so long now. And where do things stand now?
Shashank Bengali and Patrick J. McDonnell (Los Angeles Times) state
, "Maliki's surprise announcement Thursday that he would give up his bid for a third four-year term raised hope that a new government could unite a country that is more bitterly divided than at perhaps any time since the sectarian civil strife of 2006-07."
So few want to admit that. In part because they whored for Nouri and in part because they lack the ability to they were wrong to cheer Nouri on. The man was a tyrant and a despot. He had Iraqis rounded up -- usually Sunnis -- mass 'arrests' that lacked arrest warrants. The people were then lost in the 'legal' system -- often never tried, not on trial once, but kept in prisons. Some people were arrested with arrest warrants -- for other people!
They have an arrest warrent for Ali al-Mutlaq. They go to his family's home. Ali is not present so they arrest Ali's wife, sister, child or parent. That's not justice. It is why so many innocents rot in prison -- accused of no crime but held regardless.
Many of the females in Nouri's prison arrived there as a result of being a relative of someone. Once in prison, many girls and women were assaulted or raped. Nouri attempted to ignore this when it became the topic of fall 2012. An investigation by Parliament found that the assaults and rapes were taking place -- this would also be backed up by
the work of Human Rights Watch
:
Iraqi authorities are detaining thousands of Iraqi women illegally and subjecting many to torture and ill-treatment, including the threat of sexual abuse. Iraq's weak judiciary, plagued by corruption, frequently bases convictions on coerced confessions, and trial proceedings fall far short of international standards. Many women were detained for months or even years without charge before seeing a judge.
The 105-page report, "'No One Is Safe': Abuses of Women in Iraq's Criminal Justice System,"documents abuses of women in detention based on interviews with women and girls, Sunni and Shia, in prison; their families and lawyers; and medical service providers in the prisons at a time of escalating violence involving security forces and armed groups. Human Rights Watch also reviewed court documents and extensive information received in meetings with Iraqi authorities including Justice, Interior, Defense, and Human Rights ministry officials, and two deputy prime ministers.
"Iraqi security forces and officials act as if brutally abusing women will make the country safer," said Joe Stork, deputy Middle East and North Africa director at Human Rights Watch. "In fact, these women and their relatives have told us that as long as security forces abuse people with impunity, we can only expect security conditions to worsen."
There was his targeting of Iraq's LGBTQ community. There was his attack on protesters -- most infamously the
April 23rd
massacre of a sit-in in Hawija resulted fvia Nouri's federal forces storming in.
Alsumaria noted
Kirkuk's Department of Health (Hawija is in Kirkuk) announced 50 activists have died and 110 were injured in the assault.
AFP reported
53 dead -- indicating that some of the wounded did not recover.
UNICEF noted that the dead included 8 children (twelve more were injured)
.
This is who some people are praising? This is the real Nouri al-Maliki and they ought to explain how 'great' he is to have earned their praise.
That's why Iraq needed a new prime minister.
On that need,
Martin Chulov (Guardian via Irish Times) explains
:
Iraq risks being torn apart by warring sects unless Haider al-Abadi, the new prime minister, can gather the country's estranged factions behind him and form a government, senior Iraqi politicians said yesterday.
"This is all or nothing," said one senior Iraqi official who is hoping for a senior ministry within the new cabinet. "None of us are sure that he can do it. And if he can't, we are doomed."
Former State Dept employee
Ali Khedery offers, in an essay for the New York Times
:
But if anyone has the potential to unite Iraq and hold it together in the face of ISIS terrorism and Iranian meddling, it is Mr. Abadi. In a society where name and upbringing count for a lot, he comes from a respected Baghdad family and was raised in an upscale neighborhood. He studied at one of the capital's best high schools, earned a degree from one of its top universities and later received a doctorate in engineering in Britain.
While Mr. Maliki spent his years in exile in Iran and Syria and earned degrees in Islamic studies and Arabic literature, Mr. Abadi, a fluent English speaker, worked his own way through his long and costly studies abroad. In meetings over the past decade, Mr. Abadi always impressed me and other American diplomats with his self-effacing humor, humility, willingness to listen and ability to compromise -- extremely rare traits among Iraq's political elite, and precisely the characteristics that are needed to help heal the wounds Iraqis sustained under Hussein and Mr. Maliki.
"We'll give Abadi a real chance if for no other reason than because he's a Baghdadi — not a thug from a village like almost everyone else that's ruled us since '58," a shadowy financier of the Sunni insurgency told me this week.
There are many expectations out there. Whether al-Abadi can live up to them -- or even half of them -- all eyes are on him for now.
Chelsea J. Carter and Tim Lister (CNN) report
:
"He is very engaging, articulate and direct," Alaadin told the British network.
Abadi was born in Baghdad in 1952, according to his website.
A long-time member of the Dawa Party -- he is said to have joined as a teenager -- he was one of thousands of prominent Iraqis who left the country during Saddam Hussein's rule.
Abadi left to study abroad after receiving a bachelor's degree in 1975, and stayed away as Hussein tightened his grip on the country. Two of his brothers were not so lucky; they were executed in 1982 for belonging to the Dawa Party. The following year, the regime canceled Abadi's passport.
There are many issues to be addressed.
Mustafa Habib (Niqash) runs down
some and concludes:
Of all the challenges, any new Iraqi government will have to face, possibly the most frightening and complex is economic.
The country has seen budget deficits rise by as much as a third, last year's budget has not been approved and this year's budget has not yet been tabled.
"In 2012 and 2013 Iraq had about US$18billion in its coffers in the Development Fund for Iraq [a fund created to save Iraq's oil revenues] but this year there's only about US$5billion, according to figures from the International Monetary Fund," says local economist and researcher Mathhar Mohammed Saleh. "This is very dangerous. But nobody has really paid it much attention because everyone is busy with political conflicts and security problems."
The Development Fund is supposed to bridge any budget deficits – but as the deficit gets bigger and the bridging funds get smaller, Iraq may well be facing a serious economic problem.
"Additionally the delay in approving the national budget gave the last government license to spend in an uncontrolled way," says Iraqi Kurdish politician, Najiba Najib, who was on the previous government's Finance Committee. "We don't know how or where the government spent the money but we do know this conflict with the IS group is draining resources."
Additionally, since 2010, al-Maliki has continually rejected any requests to submit annual accounts to Parliament. The excuse was that government ministries had not sufficiently developed their accounting departments or that there were technical issues. However for a long time it has been thought that these excuses were really just a cover for major corruption.
Iraq has consistently been ranked as one of the most corrupt states in the world by the international watchdog organization, Transparency International.
"The new Prime Minister is going to spend his four-year term searching for solutions to the problems created by al-Maliki," says local political analyst, Khalid al-Ani. "Al-Maliki has made a lot of enemies and created many problems. His successor cannot possibly solve them all. He needs the cooperation of all political players as well as international support to find solutions."
Ayad Allawi was the leader of 2010's winning political slate Iraqiya -- they bested Nouri's State of Law.
National Iraqi News Agency reports
that he offered a cautionary note today:
Head of the National Coalition Iyad Allawi said on Friday that the Iraq crisis does not depend on changing faces but by putting Iraq on the right road associated with a clear program to solve the Iraq crisis," pointing out that "Abadi is a part of the political structure that ruled Iraq, which is from the womb of Dawa party and we are waiting for what would he do.
Allawi expressed his doubts on the ability of the Abadi to correct the political process, especially as he has come out of the womb of the Dawa Party, and he is the heir to the unique approach of political governance and based on indifference with politicians in Iraq.
He stressed "the need to correct the ways of dialogue with the Kurds, especially because they consider themselves to be part of Iraq, and recognize its sovereignty, and there should be clear rules and explicit to deal with the Kurds and the order of the relationship with them is the most important law (oil and gas).
Meanwhile, we'll note this Tweet.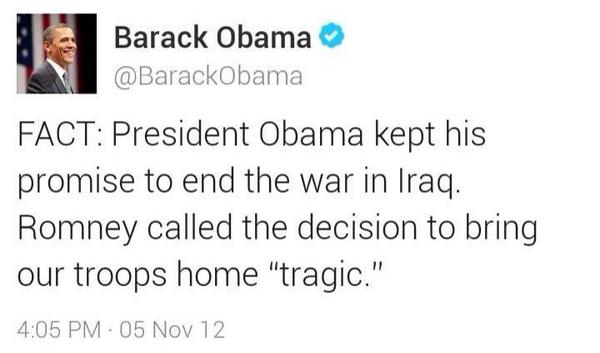 Lastly, the following community sites were updated since the last snapshot: